Benson probably had an important pre-Conquest Church, but in the 12thC the Benefice was given to Dorchester Abbey and became an impoverished Chapelry and (later) Perpetual Curacy, albeit with full Parochial Rights. Post-Reformation incumbents were often Resident, but turnover was high, and from the 17thC Protestant Dissent became prominent: by 1861 there were 5 Meeting Houses at Benson & Roke combined, and Dissent remained a feature throughout the 20thC. The Church Living became a Vicarage in 1866.
Church Origins & Parochial Organisation – Origins, Status & Advowson
Given Dorchester's Ecclesiastical importance an early Minster at Benson seems unlikely, and the significance of the Church's unusual dedication to St Helen, Cited sometimes as evidence of early Origins, remains unclear. Nevertheless circumstantial evidence points to a pre-Conquest Church of above average Status, which possessed Church Scot (Tax) and exercised Parochial Rights over Benson's Royal Territory. Warborough, Nettlebed, and Henley-on-Thames (12-miles away across the Chilterns) were still claimed as former Dependencies in 1279, and Warborough & Nettlebed as late as 1394. The Antiquity of such arrangements is uncertain, and possibly Benson's Ecclesiastical Jurisdiction was wrested from Dorchester at a relatively late Stage between the 8th & 10thCs, as Benson emerged as a Royal Estate Centre.
The Founding of Churches on newly created Manors substantially eroded Benson's jurisdiction before 1140-42, when Empress Matilda gave its Church to Dorchester Abbey. By the 13thC (though never formally appropriated) it had become one of the Abbey's Cluster of Local Chapels, which remained largely exempt from the Bishop's Jurisdiction and were served by Canons or Stipendiary Chaplains whom the Abbey appointed. After the Reformation the Living remained a poorly endowed Perpetual Curacy in the Peculiar of Dorchester, its Revenues & Advowson transferred to Christ Church, Oxford, in 1546. Nevertheless it exercised full parochial rights including baptism and burial, while its large residual parish included Fifield, Preston Crowmarsh, and much of Roke. Parish registers survive from the 1560s, and from the 16thC the perpetual curate was sometimes called 'Vicar'. Following the Peculiar's Dissolution in 1846 the Living was transferred to Cuddesdon Rural Deanery, and in 1866 it formally became a Vicarage. Proposed Parish reorganisations came to nothing, and the Ecclesiastical Parish as defined at Inclosure in 1863 remained substantially unaltered until 1985, when minor adjustments were made to coincide with the Civil Boundaries. In 2014 the Living remained a vicarage in Aston & Cuddesdon Deanery, served by a resident Vicar, and still in Christ Church's Gift. A Chapel at Fifield, endowed with ½-Yyardland, was given to Dorchester Abbey with the Mother Church, but was not mentioned after 1163. Possibly it survived as a Private Chapel attached to Fifield Manor House, recalled in 1638 in the name of the adjacent Chapel Close.
Glebe, Tithes & Stipends
If Benson Church had a substantial early Endowment it was lost by 1140–42, when the Church was Granted to Dorchester Abbey with only a Yardland and the Tithes. During the Middle Ages its revenues were subsumed in those of the Abbey's other Chapels and by 1535 were let for £22. Glebe Granted to Christ Church in 1546 covered only 17½ a., although by 1771 the College's Rectorial Tithes were worth over £600-a-yr Gross, reflecting the Parish's Size and substantial Arable acreage.
The Abbey and (later) Christ Church paid the Curate up to £6 a yr in the earlier 16thC, increased to £13-6s-8d. before 1649. In 1616 the Curate's only Land (excluding a House) was 2¼ a. between the Churchyard and the River, where his Successors erected a small Wharf. By the 1750s the Living was apparently Exonerated from 1st Fruits & 10ths (Pope's Tax on Clergy), and Curates received small Tithes, Easter Dues, and some Surplice Fees, bringing their income to a meagre £40 or so. A £200 augmentation by Queen Anne's Bounty in 1758 (matching a Grant from Christ Church) was used to buy c.19 a. at Blewbury (Berks), and by 1800 the Curate received over £100 including rents (c.£25), Tithes (c.£50), and the Christ Church Stipend. Even so the Tithes were costly to collect with up to half offset by high Poor Rates, while Easter dues lapsed by c.1810. At tithe Commutation in 1841/2 the Perpetual Curate received an annual rent charge of £157-10s., and from c.1860 Christ Church's Stipend was increased by £30, bringing his gross income to £259 (£180 clear). The Blewbury Land was Sold in 1894 and the River Wharf in 1897, and in 1927 Christ Church augmented the Vicarage with Tithe-rents totalling £102. By 1939 the Vicar's net income was c.£400 a year.
Vicarage House
A Vicarage House mentioned in 1549 may have pre-dated the Reformation, and presumably occupied the Site of its 19thC successor just East of the Church. Many 17th & 18thC incumbents lived there, but by the 1840s–60s it was considered old, damp & inadequate, with a small low Kitchen, no China or Water Closets, no waiting space for Poor Visitors, and only one Servant's Bedroom. Its Floor-level (1½ ft below the Road Surface) suggests considerable Antiquity. The Services were improved by the incumbent c.1849, and in 1869– 70 the whole House was rebuilt to designs by Charles Buckeridge, funded by Mortgage and partly re-using old Materials. Faced in Flint with Brick Dressings and Mullioned Stone windows, the new, Gothic-influenced house provided more spacious & appropriate Accommodation, including Drawing & Dining Rooms with moulded Wooden Cornices, a Study, and Servants' Rooms.
Vicarage, now House. c.1870 by Charles Buckeridge. Knapped Flint with Brick Dressings; plain-tile complex Roof; Brick Stacks. 2-Storeys, 3-Bay Range. Central 2-Storey Gabled Porch with 4-Panel Door. Single-light Transomed Windows to left & right returns of Porch. 2-light Mullioned window to 1st-Floor of Porch with Sash Glazing & Brick relieving Arch above. Right return; 2-Storey, 2-Window Range of Mullion & Transom Windows with Trefoil tops to lights except angled Bay to Ground Floor Right with hipped Plain Tile Roof. Left return; irregular fenestration of Mullion & Transom windows.
Interior: not inspected
Improvements were made in 1924, but in 1969 the House was sold and replaced by Churchfield North-west of the Churchyard. That was superseded in 1985 by a smaller house on Church Road, still occupied by the Vicar in 2013.
Church Estate
An Estate of c.57 a. (including 2 Houses and a Forge) was said in 1618 to have been used for Church Repair 'since time out of mind', having presumably been donated by one or more Parishioners at unknown dates. Thenceforth it was Vested in Feoffees who passed the Rent to the Churchwardens, its application overseen by the Vestry & Perpetual Curate. The Endowment precluded the need for Church Rates, and though Christ Church remained liable for the Chancel the Estate may occasionally have underwritten Chancel as well as Church repairs. At inclosure the feoffees received c.41 a. for the estate, which in 1882 was vested in the Vicar & Churchwardens, accumulated rents having been invested with the Official Trustee of Charitable Funds. Following some Exchanges the Land was sold in 1920 and the proceeds invested in War Stock, yielding c.£53 a year towards Church Upkeep.
Pastoral Care & Religious Life – The Middle Ages
Nothing is known of the Canons or Stipendiary Chaplains who served Benson Church from the 1140s to the early 16thC, appointed presumably by Dorchester Abbey. Several of the Abbey's Parishes suffered occasional neglect, but the church's 13th & 14thC remodelling indicates active Lay involvement, and stylistic similarities with some other Dorchester Chapels may reflect the Abbey's Patronage. The Curate in 1501 was possibly a University Graduate, and in the 1520s–50s the long-serving Harry ap Iven witnessed Parishioners' Wills and probably Resided. Early 16thC Parishioners made small Bequests to Benson Church and to the 'Mother Church' of Dorchester, and Bells mentioned in 1553 suggest further local Patronage. The only Plate listed at the Reformation was a Silver Chalice, though the Church presumably had additional Furnishings including Vestments.
The Reformation to 1820
Dorchester Abbeys suppression and the Church's Transfer to Christ Church must have exacerbated the upheavals of the Reformation, despite ap Iven's continued presence over 30-yrs. Edward Sibley, recorded as 'Vicar' c.1549–60, may have been installed over ap Iven's Head and disruption continued in the 1570s when former chantry lands in Benson were sold by the Crown. Sibley's successor Thomas Angrom (d. 1561/2) was a reformer who, like his successors, accepted the Elizabethan religious settlement, and Parishioners' Wills suggest that Religious change was swiftly enforced. Virtually no Catholic recusancy was recorded later. From the 1580s nearly all of Benson's Incumbents were Christ Church men, of whom most (reflecting the Benefice's Poverty) were near the start of their careers. Arthur Laurence (Curate 1588–91) moved to a London Living, though his successor William Cox remained until his death in 1618, serving the Parish conscientiously & Transcribing the Parish Registers. James Whitehall (Curate 1618–21) was deprived through insanity, and though John Hurlocke or Shurlocke (1621–29) Resided, his Incumbency was marred by accusations that he had fathered a Child with a local woman, possibly his Predecessor's daughter. Disciplining of Parishioners was mostly confined to routine cases of Sexual misconduct or working on Sundays or Holidays, although a handful of people were presented for failing to attend Communion at Easter.
By the 1620s the Chancel was also in serious disrepair, reflecting neglect by Christ Church or its Lessee. A Midsummer Church Ale was mentioned in 1623.
Richard Gardiner (1629–32) was a High Church Royalist, and as a Cathedral Canon & Chaplain to Charles I may have employed Curates. His Religious views were shared by Thomas Terrent (1632–39) & Andrew Pauling (Minister by 1642), who was apparently removed during the Interregnum. Christ Church nonetheless appointed Incumbents throughout the 1650s, amongst them Thomas Vincent (in 1650), the staunchly Laudian Robert South (1658) & Arthur Stratton (1659). Pauling was reinstated in 1660 and remained at Benson until 1664, when he moved to a Northhants Benefice. Thereafter the Parish enjoyed greater stability under John Bruch (1664–98) and Anthony Reade (1698–1714). The former lived in Benson until his death, and though Reade (as a Canon of Exeter) may have resided elsewhere, his initials appear on a Silver Paten given in 1705.
Protestant Dissent became increasingly evident from the Restoration. In the 1660s–80s at least 6 Parishioners refused to attend Church or Communion or to have their Children Baptised, and in 1676 Bruch reported 12 Dissenters (probably an underestimate) compared with 268 Conformists. Many were Quakers associated with the Warborough Meeting (established in 1668), who were especially strong at Roke: from 1699 to 1727 the Warborough Women's Meeting met there regularly at Mary Tutty's Huse (registered formally in 1713), while the Men's Meeting rotated between Warborough, Roke & Turville Heath (Bucks). Some Members were of moderate means, and in 1679 Land at Roke was Bequeathed for the Benefit of Poor Quakers. A separate house there was registered for Baptists in 1739, and continued as a Chapel into the 20thC. Dissent in Benson itself gained hold before 1781, when Ann Prickett's House was Licensed probably for Calvinist Methodists or Congregationalists, who continued to gain strength.
The pattern of Anglican provision remained largely unaltered to the 1780s, with most Incumbents (still Christ Church men) signing Churchwardens' Accounts & Parish Registers and presumably Residing at least occasionally. Several stayed for only a few years, notable exceptions including Edward Smallwell (1720–30), Abraham Gregory (1736–45) & Samuel Long (1754–79), who employed a Curate during periods of Absence in the late 1770s. By contemporary standards Church life was reasonably vibrant. Henry Cremer (Curate 1714–20) 'Beautified' the Church in 1717, and further improvements were carried out in the 1720s & 1735, when there was a West Gallery Band. A Silver Tankard Flagon was donated c.1754 and from 1765 to 1781 the Curates, Churchwardens, and leading Parishioners were intermittently engaged with rebuilding the Church Tower & replacing its Bells. As in the early 19thC there were probably 2 Sunday Services and a single Sermon, with Communion 4 times a year. The Bishop remained excluded from Churches in Dorchester Peculiar, although from 1758 the Benefices augmentation gave him limited authority at Benson, where he held Confirmations in 1790.
By then the Parish was suffering from Absenteeism under William Judgson (1779–1820), who lived mostly in Shropshire. At Benson he employed successive Curates including his nephew W G Judgson, of whom most occupied the Vicarage House and received moderate Stipends of £50–£75. Many were conscientious & apparently liked, overseeing Major Church Repairs, Establishment of a Sunday School, and (in 1817) installation of an Organ. Few stayed long, however, and at times there was no Clergyman Resident, encouraging further Dissent. In Benson a Calvinist Group derived apparently from the earlier Meeting at Ann Prickett's House, and associated with the Countess of Huntingdon's Connection, met at adapted Premises on Chapel Lane from 1794, served at 1st by the Wallingford Ministers Joseph Griffiths, James Raban & George Lee. By 1808 the Group had c.40 Adherents, a large Sunday School, and (in 1814) 2 Resident Teachers both 'in Trade', and in 1834 it was re-established (still on Chapel Lane) as a Congregationalist Branch Church under the Resident Minister William Oram (d.1849). A short-lived Baptist splinter group seems to have been established in Benson by 1790, and Roke Baptist Chapel continued, while the Warborough Quaker Meeting retained a few Roke or Benson Members into the 19thC. Early 19thC Curates nevertheless alleged that Dissent was not increasing.
Religious Life Since 1820
Judgson's successors were mostly Resident, but improvement was not immediate. C H Cox (Curate 1828–34) reported that Benson's Clergy were viewed 'in no friendly light', and his disparaging view of the Lower-Class' Population probably did little to improve relations. George Lodowick Parsons (1835–48) won the Bishop's Praise as a good and active man [though] rather inclining to Tractarianism', and increased Communion to 8 times a year, adding weekday Prayers and a 2nd Sunday Sermon. By 1854 (under Samuel Hay Cooke) there were 3 Sunday Services and monthly Communion, although Cooke was then non-Resident and employed 2 Curates, while the Bishop found local Candidates for Confirmation ill prepared. Further improvement came under J M Collyns (1858–67), who by the 1860s reported positive feelings towards the Church and donated a Silver Chalice & Paten. By then Congregations (including children) numbered c.300 out of a population of nearly 1,200, with up to 60 Communicants at the Chief Festivals.
Dissent remained 'Rife' amongst 'Tradespeople', and was cited by Curates (along with widespread Absence from Church and the Village's large number of Pubs) as one their chief difficulties. Roke Baptist Chapel (then served from Wallingford) attracted over 80 Worshippers by 1851, while Benson's Congregationalist Chapel on Chapel Lane had 70–80 Attendees & 12 Sunday School Pupils. A Benson Baptist Chapel, opened in 1845 in a room adjoining the Sun Inn, had 100 Sittings and a Congregation of 35, while a Wesleyan Methodist Chapel at the top of London Road (opened in 1843) had 92 Sttings and an average evening Attendance of 48, bringing the overall number of Nonconformist Worshippers to nearly 250. The Wesleyan & Congregationalist returns were signed respectively by a Benson Land Surveyor and by the Benson Maltster & Corn dealer James Burgis, while that for Benson Baptist Chapel was signed by a Chalgrove Baker & Grocer. Primitive Methodists were established in Benson by 1861, Meeting until the 1890s at 17 Brook Street (Chapel House).
Anglican Curates reacted to Dissent by pressing for a National School and improved Church Accommodation, while Parochial reorganisation was proposed to tackle their perceived lack of influence at Roke, which the Bishop characterised as 'Dissenting, Baptist, and much influenced by Wallingford revival Meetings'. A Curate jointly funded from Benson, Chalgrove & the Diocesan Spiritual Help Society was appointed to serve both Roke & Berrick Salome, and in 1853 Christ Church (at Cooke's instigation) bought Land at Roke for a proposed new District Church. Meanwhile the Vicar of Chalgrove pressed repeatedly for Roke's inclusion in a proposed new Parish of Berrick Salome. Nothing was done, however, and Collyns's successors George Croke Robinson (1867–78), G H Whitaker (1878–81) & John Edward Field (1881–1923) all complained that Dissent remained strong. Robinson estimated that a 3rd of the Population (including 2 Farmers & 4–5 Shopkeepers) were Dissenters, and admitted that 200 Parishioners went 'nowhere as far as I know', while Church capacity was thought too small, and in 1875 Labourers' attendance was declining. Bible Classes, Church Improvements & occasional Missions slowly increased support, and Field instituted Sunday Cottage-Services at Roke.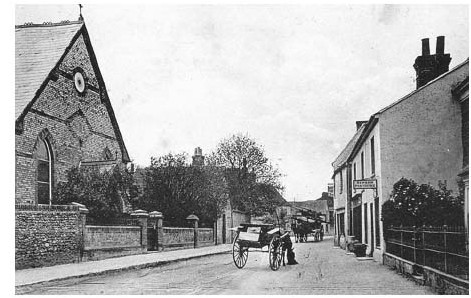 Benson's Baptist Chapel closed probably by 1862, but Worship at Roke Baptist Chapel remained vibrant, and in 1879 the Benson Congregationalist Meeting was reconstituted as a Free Church, with a new and imposing 200-seat Chapel on High Street. The original Congregationalist Meeting House on Chapel Lane was taken over 1st by the Wesleyans, who gave it up c.1895 & in 1897 by the Primitive Methodists, who remained there into the 20thC. Continuing denominational rivalry was reflected by the presence until 1900 of separate Anglican & Nonconformist Schools, although in 1863 Nonconformists helped raise Funds for a Churchyard Extension. A 'Tin Tabernacle' on Watlington Road was built before 1903 to accommodate the Free Church's Sunday school and Church club, continuing in use until c.1963.

All but 2 of Benson's 20thC Vicars stayed for 10-yrs or more, serving the Parish in person. At 1st a moderately High-Church tone persisted: Robinson had pressed for the Choir be Surpliced & Field occasionally used Incense, besides moving Choir & Organ closer together and introducing Harvest Thanksgiving and a weekly Children's Service. A radical reordering of the Church Interior from 1971–78 (carried out partly by Parishioners under the Architects Direction) reflected more inclusive forms of Worship, and in 2014 (when there were 101 on the Electoral Role) Sunday morning services were followed by refreshments in the adjoining parish room, with a monthly Eucharist for families accompanied by the church orchestra. A privately run Gospel Mission Hall in Crown Lane functioned 1932–57, but the Primitive Methodist Chapel on Chapel Lane closed in 1946 and was converted into Shops, while Roke Baptist Chapel closed in the 1950s following the deaths of its last supporters, and was Demolished in 1966. Benson Free or Congregationalist Church declined to join the new United Reformed Church in 1972, and closed in 2009 when the Congregation numbered only 2. It subsequently became a Private House.