Manor Courts & Officers
From the Middle Ages to the 19thC Berrick's Inhabitants attended Chalgrove's Manor Courts, held from the 16thC by Magdalen & Lincoln Colleges, Oxford. The Courts Granted Copyholds, Collected Manorial Fines, laid down Manorial Custom, and Heard Jurors' Presentments regarding Over-grazing, Blocked Lanes & Ditches, or similar Disputes. An Ale Taster (presenting Brewing Offences) was mentioned in 1462/3. Inhabitants were also represented at the Honour of Wallingford's annual View of Frankpledge at Chalgrove, which by the 16thC appointed a Constable & a Tithingman for Berrick, and sometimes also Ruled Over-grazing or Blocked Ditches. In the early 19thC it also appointed a Hayward. Magdalen's Courts dealt with Berrick Business until Inclosure in 1863, and continued until 1891, Lincoln's having apparently lapsed slightly earlier. The annual Views ended in 1847.
Parish Government & Officers
Berrick had 2 Chapel or Churchwardens (Procuratores) by 1424, when a Parishioner Granted them a Toft on Berrick Street.  By the 1460s they held an acre in the Open-fields for 5d Quitrent, and by the 17thC they administered income from the 6¾a. Church Estate, given at an unknown date.  Overseers of the Poor were appointed probably from the 16thC & certainly by 1679, and in the late 18thC a Field Keeper (with Counterparts in Benson & Ewelme) Oversaw Open-field Intercommoning after Harvest.  All were Elected presumably by the Berrick Vestry mentioned from 1618, which may have had Medieval antecedents. As elsewhere, Offices were held by leading Farmers, sometimes for several years.  At Inclosure the Churchwardens received 9¾ a. for the Church Estate and their earlier acre, and with the Overseers were given Oversight of the new Recreation Ground & Labourers' Allotments. The Surveyor of Highways received 2 a. for use as a Gravel Quarry.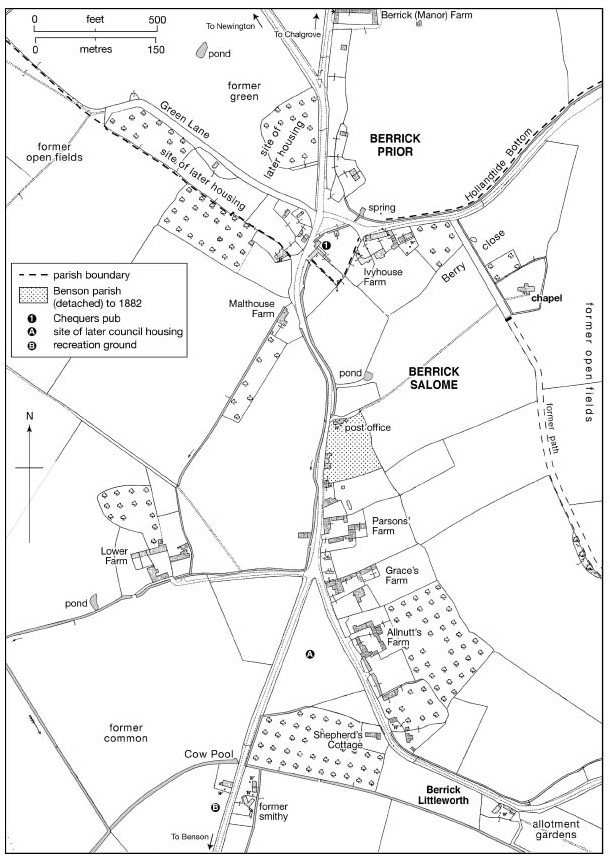 Vestry Meetings in the 1880s–90s were held usually in the Chapel or Chequers Inn around Easter, attended by the Vicar and a few prominent Farmers or Tradesmen who elected the Churchwardens, Allotment Wardens, and a Way Warden, nominated Overseers & Audited Accounts. The Churchwardens (with the Vicar) also administered the Parochial Charities, while a salaried Assistant Overseer was appointed in 1891 following a controversial Parish Vote.  The Vestry's remaining Civil Responsibilities passed under the 1894 Local Government Act to a new Parish Meeting which, following the Parish's Expansion in 1992, continued as a Parish Council of 5 with a Parish Clerk.  Two Churchwardens were still elected, although in 2013–14 one Post was Vacant.  The Parish was transferred in 1894 from Wallingford Poor Taw Union and Rural Sanitary District to Crowmarsh Rural District, and in 1932 to Bullingdon Rural District, passing in 1974 to South Oxfordshire District. 
Education, Charities & Poor Relief
Mary White (by Will dated 1729) left a 30s annual rent charge for teaching Poor Children to read, with a similar sum allocated to Berrick Prior. In 1823 the payment (less 3s Land Tax) went to a Berrick Salome Schoolmistress who taught 2 children free, and another Schoolmistress was Resident in 1851. Even so the Village was consistently said to have no School of its own, and by the later 19thC most children attended Benson Schools or (in the 1860s-70s) an Anglican Infant School at Roke. From 1884 the White Bequest was accordingly diverted to School Prizes. A Private Nursery School was briefly accommodated in Berrick Village Hall in the late 20thC.
Occasional one-off Bequests to the Poor were made from the 16thC, the most substantial (£10) by a Vicar of Chalgrove in 1609.  Berrick also shared in Endowed Charities established by the Chalgrove Vicar John Wall (d.1666) and by Alice Markham (d.1679), Widow of Wall's successor, receiving respectively 2/5ths and 1/3rd of the income. In 1759 the Charities were 'misapplied', but in 1823 yielded £4-14s-11d for Berrick; the sum was distributed in Cash on St Thomas's Day (21st December) along with 6 bushels of wheat, a Gift whose origins were unknown.  An additional £5 Bread Charity (distributed from the Chapel Gallery) was established by the London Coachmaker Thomas Smith (d.1812), one of a Local Family who retained Property in the Parish.  As elsewhere, most Poor-Relief costs were by then met from Parish Rates. Expenditure of c.£35 in 1785 (including £2-10s on Pauper Accommodation) rose to £127 by 1803 and to £268 in 1813, when 11 people received permanent & 36 people occasional Relief. Later expenditure ranged from c.£130 to £231, the slightly below-average per capita costs presumably reflecting Local Farm Employment.  Responsibility passed in 1835 to Wallingford Poor Law Union, although the Parish still appointed Overseers, a Poor-Law Guardian, and (occasionally) an Assistant Overseer.  Allotment Gardens for the 'Labouring Poor' were laid out at Berrick-Littleworth at Inclosure in 1863.
In 1977 the Mary White Educational Charity was merged with the 3 Eleemosynary Charities to create the Berrick Salome Relief in Need Charity, which in 2012–13 distributed over £1,400.  The Berrick Salome Quarry Charity, Benefiting a variety of Local Organisations, was Established in 1990, administering income from a small former Gravel Quarry allocated to the Parish for Road Repair at Inclosure.