The small & relatively scattered Village of Berrick Salome occupies gently rising ground a mile or so North of Benson, its Clunch-rubble & Timber-framed Buildings strung loosely along the Newington Road and a few intersecting Lanes amidst some small-scale modern Infill. The place name (Anglo-Saxon Berewic) reflects its origins as an Outlier of the Anglo-Saxon Royal Estate Centre at Benson, although Ecclesiastically it became a Chapelry of Chalgrove, reflecting Manorial Links established in the 11thC. For most Civil purposes it was fully Independent by the 17thC, and from the 19thC it was counted a Civil Parish. The Villages Northern end merges with the Hamlet of Berrick Prior, historically part of Newington Parish. That and the Hamlets of Roke & Rokemarsh, to the South, were absorbed into Berrick Parish in 1992, the last 2 having been previously divided amongst Berrick Salome, Benson & Ewelme. Socially & Economically they had Close ties with Berrick considerably earlier. The suffix 'Salome', recorded from the 1520s, imitated the similar pairing of nearby Britwell Salome & Britwell Prior, the Medieval Sulham Family (which gave Britwell Salome its name) having no connections with Berrick. Occasionally the Village was also called Nether or Lower Berrick, and in 1360 Berrick by Dorchester.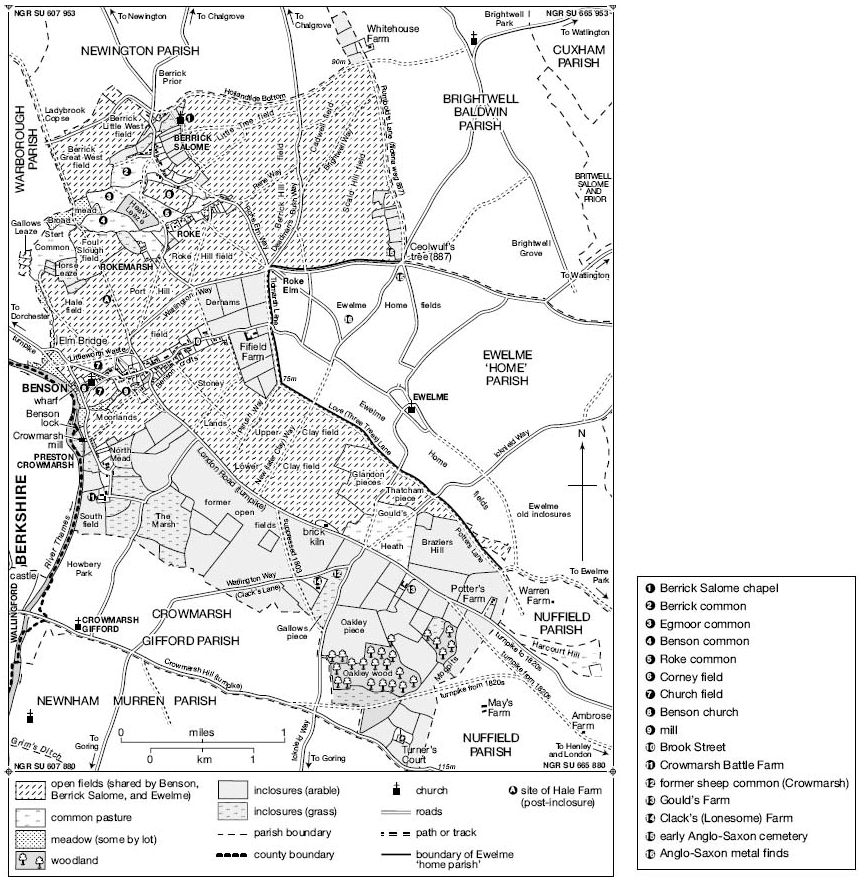 Parish Boundaries & Landscape
Berrick's Anglo-Saxon connections with Benson were reflected in their shared Open-fields, which survived until Inclosure in 1863. Consequently there was no Linear Boundary between the 2, the Open-field Strips which paid Tithe to Berrick lying scattered as far South as Goulds Heath, though with a marked concentration in the Berrick area . The Parish's more clearly defined Western Boundary with Warborough and its Eastern one with Brightwell Baldwin both followed Ancient Routes, while the Northern Boundary with Newington followed Field Divisions, a Lane along the shallow Valley of Hollandtide Bottom, and (within the Village) Property Boundaries between Berrick Salome & Berrick Prior, which left the Chequers Pub and some other Buildings just outside the Parish. That last Boundary was established when the Settlements Northern half was Granted to Canterbury Cathedral Priory in the early 11thC, becoming (as Berrick Prior) part of Canterbury's Newington Estate, and consequently part of Newington Parish. Roke's Division between Berrick, Benson & Ewelme Parishes followed similar Manorial Divisions, bringing the Hamlets Western half (including Roke Farm) into Berrick, while 3 Cottages fronting Berrick Salome Village Street remained part of Benson Parish until 1882. In 1839 the Parish was reckoned at 678 a., including (as with several neighbouring Parishes) small areas of detached Meadow in Drayton St Leonard.
The Boundaries with Benson & Ewelme were redrawn at Inclosure, creating a Parish of 600 a. which, reflecting earlier complexities, included seven small detached areas intermingled with parts of the other Parishes. Rationalisation in 1882 & 1932 reduced it to 557 a., expanded to 729 a. (295 ha) by the absorption of Berrick Prior, Roke & Rokemarsh in 1992. The Village (at c.54–57M) and the Parish's Western part rest chiefly on low-lying floodplain Alluvium, which until Inclosure provided a large tract of Common Pasture around which Berrick, Roke & Rokemarsh developed. North-west & East of the Village, areas of Gault Clay, Upper Greensand, and Gravel underly the former Open-fields, those on the East (where the ground rises to over 80M) formerly characterised by 'Hill' names. Local Springs feed the small Streams (most of them straightened & diverted at Inclosure) which flow towards the Thames through the former Commons, those through Berrick Village & Roke flanking the Main Village Streets.
Looking North along Berrick Salome's Main Street, with Parsons' Farm & Barns on the right & Plough Cottage further along.
Communications
Berrick lies along a now minor North-South Road from Newington, which in the Anglo-Saxon and Medieval Periods was probably more significant. To the South (beyond Roke) it meets the Watlington-Benson Road at or near the probable Hundredal Meeting Place (Ceolwulf's Tree 887), and formerly it continued Southwards along Tidmarsh Lane between Ewelme & Fifield. A Branch leading South-westwards to Benson (formerly crossing the Commons and Fields) was Mapped in 1638, and is presumably also Ancient, although the stretch beyond Rokemarsh is now only a Footpath. The Villages Northern end (adjoining Berrick Prior) lies near the Newington Road's Intersection both with the main Chalgrove Road, and with the probable line of the Romanised Lower Icknield Way along Hollandtide Bottom and through to Warborough. That latter route formed much of the Northern Parish Boundary and, though only a minor Lane in the 19thC, was still used by local Farmers, despite the Winter Flooding & Mud which sometimes affected Berrick's other Roads as well. East of the Village Street, a North-South Lane skirting the Open-fields connected the Church with the Villages Southern end, but like several other Lanes across the Fields was suppressed at Inclosure. On Topographical Grounds it may have once continued Northwards to meet the Newington Road, forming part of a continuous Route Southwards to Tidmarsh Lane & Beyond.
Davis' Map of Oxfordshire 1797
Carriers based at Roke & elsewhere served the Village intermittently from the mid-19thC to mid-20thC, but by the 1960s (as in 2015) there was no Public Transport. Post was delivered through Wallingford by the 1850s, and a sub-Post office in a Berrick Cottage opened in the 1890s, continuing until the Postmistress's death in 1949. Benson remained the Site of the nearest Money Order & Telegraph Office. A Post Office in the Chequers (still technically in Berrick Prior) operated in the 1960s–80s, followed by a short-lived Service in Berrick Village Hall.
Settlement & Population – Prehistoric to Anglo-Saxon Settlement
An area of multi-phase occupation spanning the Neolithic to Roman Periods has been excavated on the Berrick-Warborough Boundary West of Berrick Salome Village, adjoining a likely Roman Road which the Boundary follows. Activity there intensified during the late Bronze & early Iron Ages, but a subsequent rural Roman Settlement was apparently abandoned after the Roman withdrawal, and the Site absorbed into the later Open-Fields.
Archaeological evidence of Anglo-Saxon activity within the modern Parish is so far lacking, but the place name Berrick (Anglo-Saxon Berewic), recorded in 1086, suggests a dependent Settlement or Farm within the Benson Royal Estate, to which the area certainly belonged. Presumably it was well established by the early 11thC, when its Northern Part (later Berrick Prior) was Granted to Canterbury Cathedral Priory. A separate Land Grant in 996, possibly relating to an area in the Ancient Parish's North-eastern corner, suggests a tightly organised surrounding Landscape, named features including 'Headlands' as far as 'Chalk-pit Way', 'Bryda's Tumulus', 'Woad Valley', a Worth (or small Settlement), named Streams, and Hedgerows. A 'Fielden Wood Way' was probably Rumbold's Lane, marking the ancient Parish's Eastern Boundary, and forming part of a Route linking the Oxford Vale with the Chiltern Uplands. The Settlement's Location was presumably influenced by the presence of the nearby Springs, which emerge close to the Junction of the Gault & Greensand, and which provided the Village's Water into modern times.
Population from 1086
Twenty Tenants (including 4 Servi) were recorded at Berrick Salome in 1086, & 21 in 1279, suggesting a Population approaching 100. For the Period the figures imply unusually small population growth, although some Tenants may have been omitted from the 1279 Survey. In 1377, after the Black Death, Poll Tax was paid by 59 Inhabitants over the age of 14, still implying a Population of at least 100, and in 1462/3 (despite some amalgamation of Holdings) 18 Customary Tenants in Berrick & Roke were listed on just one half of the Manor, alongside a few possibly Resident Freeholders. In 1523/4, when c.10 Inhabitants paid Tax, Berrick remained amongst the Hundreds smaller Settlements. Hearth Tax was paid in 1662 on 16 houses, probably excluding the few Dwellings at Roke included in Berrick Salome Parish, and possibly omitting a few others, since an Adult Population of at least 80 was estimated in 1676. In 1738 the Vicar reckoned that there were c.20 Houses, and in 1801 (following further Population growth) there were 30 occupied by 37 Families (143 people). That and later Census Figures included 4–5 Houses at Roke, but omitted the similar number in Berrick Salome Village which still belonged to Benson Parish. By 1821 the Population had risen to 174 in 30 Houses, falling to 134 over the next 10 years but recovering to 167 (in 37 houses) by 1841. Thereafter it fell gradually to 86 in 1891, and for the most part fluctuated around 100 until the 1970s, when new house-building raised it to 152 in 52 Households by 1981. The subsequent incorporation of Berrick Prior, Rokemarsh & Roke brought the Parish Population to 325 (in 125 Households) by 2001, which was little altered 10-yrs later.
Village Development
The Shape & Extent of the late Anglo-Saxon Settlement is unknown, and was probably altered by 11thC and later reorganisations. Some houses, however, may have already lain along the modern Street, fringing the large area of Common Pasture to the West, with Houses at what became Berrick Prior possibly clustered (as later) around a large Green. An early Focus within Berrick Salome itself was presumably the Chapel, Founded probably in the 11th or early 12thC after Berrick Salome became a small Independent Manor. By the 18thC it stood separate from the bulk of the Village on the edge of the Open Fields, presumably reflecting Settlement shrinkage. The Lane running past it may have once formed part of a longer Route, and Land adjoining was called Bury Closes, perhaps recalling a nearby 11thC Manorial Centre abandoned after Berrick was subsumed into Chalgrove Manor.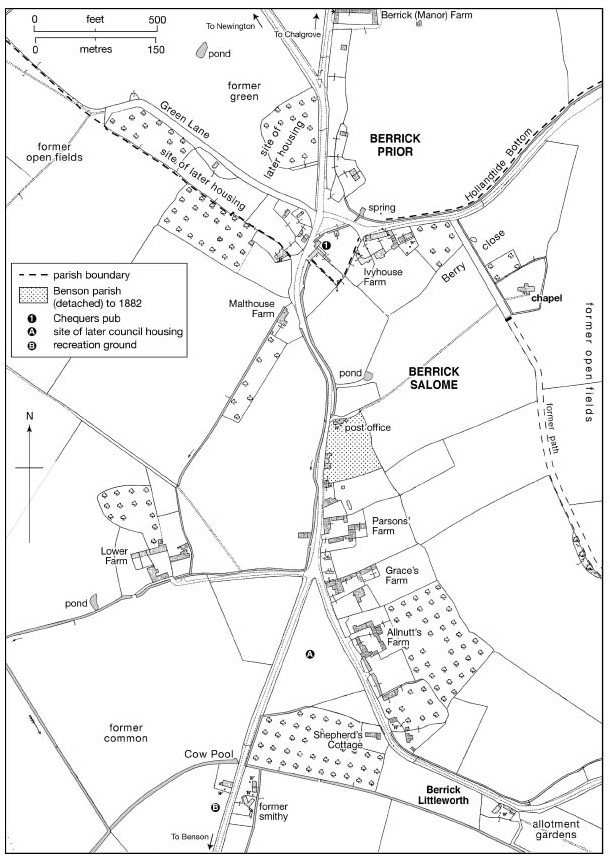 The retention within Benson Manor (and later Parish) of a separate Block of House Plots on Berrick Street may indicate that their Site had some special early importance, although later they apparently comprised only ordinary Tenant Holdings. The location of known Manorial Copyholds, some of which can be traced from the 16thC, suggests that Medieval Settlement spread along the whole length of the Village on both sides of the Street, from near Malt House in the North Down to Shepherds Cottage near Berrick Littleworth – a name attached by 1861 to the Villages Southern edge near Roke. Almost certainly such Settlement was always loosely scattered, and probably it became sparser during the later Middle Ages. Predecessors of Ivyhouse Farm & Ivyhouse Cottage, on the Lane to the Chapel, were possibly mentioned in 1382, the latter remaining a Manorial Copyhold and the former a Freehold. Lower Berrick Farm, on the Northern Edge of the large former Common just West of the Street, is also associated with a late Medieval Freehold, and in its present form originated c.1550. A Cottage at Cow Pool on the Benson Road, adjoining a stream on the Commons Edge, existed by the 17thC, and in the 19thC there was a nearby Smithy & Wheelwright's.
The Villages shape was little altered thereafter, although 2 Farmhouses on the Streets West side were demolished during the 19thC, followed by several Cottages. Piecemeal infilling began c.1949 with 6 Council Houses at Weller Close (between the Benson & Ewelme Roads), and from the 1960s-70s other houses were built to their North, on the Benson & Ewelme Roads, on Berrick Streets East side, and along the Parish's Northern edge on Green Lane (formerly in Berrick Prior). Some replaced earlier Caravans. Modern Farm Buildings opposite Parsons' or Parsonage Farm were erected from the 1960s, and a Children's Playground was opened at the Benson Road Recreation Ground (at Cow Pool) in 1966, followed in 1980 by an adjacent Village Hall. Electricity was available by 1937 and a small Sewage Works was built c.1950, although Water Supply was still from Wells & Springs in the 1940s. The outlying Hare Hall (formerly Brookslade Farm) was built in former Open-fields to the East of the Village in the 1880s–90s.
The Built Character
Berrick's older domestic Buildings comprise Cottages and modestly sized former Farmhouses of mostly 16thto 18thC date, built chiefly of local Clunch Rubble, but with a handful of Timber-framed Dwellings which were probably once more numerous. Roofs are Thatched or Tiled, although much Thatch was Lost during the 20thC. Brick is mostly confined to Chimney Stacks and occasional Dressings & Quoining; exceptions (besides the 18thC Chequers Pub actually in Berrick Prior) include the main Range of Ivyhouse Farm, fronted in Flemish-bond Brick with flared Headers, and bearing the scratched date 1781, when it was a Tenanted Farmhouse. Like most buildings it retains Casement windows, and its Through-Passage plan suggests earlier origins.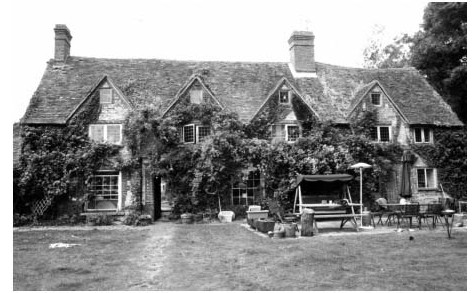 The highest-quality Farmhouse is Lower Berrick Farm, whose Western part incorporates a Timber-framed House built c.1550 probably for the Hambledens, Berrick's wealthiest Yeoman Farmers. The Hall had a Chimney from the Outset, and a Clunch-built rear Stair Tower may be Contemporary. A Storeyed Parlour Range was added on the East c.1613, and the remainder was encased in Clunch with Brick Dressings, acquiring a semi-symmetrical row of 4 Gabled Dormers. In 1662 it was the Parish's largest House, Taxed on 6-hearths. Other former Farmhouses (all 17thC or earlier) include Parsons', Grace's, Allnutt's, & Malt House, former Copyholds named mostly from 18th or 19thC Tenants. Parsons' (now misnamed Parsonage Farm), aligned along the Southern edge of its former Farmyard, comprises a single Clunch & Flint Range of 1-Storey with Attics, formerly Thatched, and extended Lengthways in the 17th or 18thC. Allnutt's, rubble-walled and 2-Storeyed with Attics, has a 3-unit Lobby-entry Plan, while nearby Graces has a 2-Unit plan with a double rear Wing, and an added 19thC block with a canted Bay Window. Its Interior retains 5-Brick Fireplaces including 3 with Tudor Aches, an open-well Stair with Knob Finials and a roll-moulded Handrail, 17thC panelled Doors (one dated 1655), and 2 Corbels dated 1663. Sizeable Farmyards formerly adjoined most Farmhouses, sometimes on a Courtyard Plan: Surviving Structures include a Timber-framed Granary at Ivyhouse and a similar Granary & Cowhouse at Lower Farm, which in 1754 had 2-Barns, 2-Stables, a Pigeon House, and a Wood-house. Farm Buildings generally were still predominantly Thatched in 1910, although Corrugated Iron was already appearing.
Smaller houses include the 3-Bayed Old Post Office and Little Frogs, both Timber-framed & Single-Storeyed with Attics. Several houses of similar or smaller size (some flimsily constructed) were demolished in the 19th or early-20thCs, and were presumably Common in the 1660s when 37% of Houses were Taxed on only 1 or 2-hearths, and 8% on fewer than 4.
New 20thC Houses, some plain and others incorporating vaguely 'vernacular' features, display a variety of materials including Brick, Render, Sone, and Timber-cladding, while in the 1980s-90s several redundant Farm Buildings were rebuilt or converted to Domestic use, notably at Parsons' Grace's Farms. The Village became a Conservation area in 1984.
Horse & Harrow Public House, Braze Lane, Rokemarsh. 17thC with 19thC Extension to left. Timber framing with rendered Infill to right return of Cross Wing to centre; painted Limestone rubble; painted Brick to left; Plain-Tile Roof; Brick Stacks. Single Storey & Attic; 3-window Range. Plank Door to Right. Irregular Fenestration of Casements with 19th Sashes to Left. Gabled Dormers. Ridge Stack to right, end Stack to Cross-Wing to centre. Ovolo-chamfered spine Beam and Open Fireplace to Saloon Bar.
Priory Cottage: Mid/Late 17thC (1630). Colour-washed Limestone rubble; Thatch Roof with Brick Ridge Stack. 3-unit Plan One Storey plus Attic. 2-window Front has a Blocked Entrance, to right of centre in line with the Stack, a 5-light Casement to left, a 3-light Casement to right and two 3-light Dormers. All Casements are low with heavy frames. The Doorway is to extreme left and has a heavy chamfered Frame. Half-hipped Roof. Further wide Casements in left Gable wall and small casements at the rear.
Interior: not inspected. Possibly originally a Lobby-entry Plan.
The Innocents: Berrick Prior House. Mid 17thC, extended 20thC. Colour-washed Limestone rubble; Thatch Roof with Brick Gable Stacks. 2-Unit Central-Stair Plan, extended to Rear. 2-Storeys plus Attic. 3-window Front has a wide heavy-framed Entrance, to right of Centre, below a small 2-light Stone-Mullioned window with Label; to left are 4-light Mullioned Windows & there are 3-light Windows to right, all with Labels & Leaded Lights . Roof has a small Eyebrow Dormer to right, probably 20thC and there are further Dormers & Mullioned Windows at the Rear. There is an added 2-Storey Rear Wing and a small Lean-to Extension to right.
Interior: Timber-framed Partitions flank Central Bay with quarter-turn Stair rising to attics. 2 Ovolo-moulded Beams; Open Fireplace with Ogee chamfer-stops to Bressumer; Brick Fireplace with shallow chamfered-Arch in chamfered rectangular Recess & a Bread-oven; 2 1st-Floor Fireplaces with cambered Bressumers; old Plank & Panelled doors. Roof has 2 rows of straight Windbraces & Purlins are Clasped over Partitions but abut intermediate braced-Collar Trusses.