Benson remained predominantly Agricultural until recent times, though by the 13thC, like some other large Vale Villages, it also had a relatively wide range of Trades & Crafts. During the 18thC Coaching briefly expanded its non-Agricultural Trades, although in 1841 nearly half the Population (including 155 Agricultural Labourers) were still directly involved in Farming. Lesser activities included small-scale Mineral Extraction and (briefly) Brickmaking & Lime-Burning. The Village retained a broad range of Shops & Services in the early 21stC, though by the 1960s most inhabitants worked elsewhere.
The Agricultural Landscape – Open-Fields
Until Inclosure in 1863 Benson's Landscape was dominated by the vast Open-Fields shared by Benson, Ewelme, & Berrick Salome, which in 1788 covered c.1,950-acres from Berricks Northern Boundary down to Goulds Heath. The Fields' Medieval extent was greater, including much of the 500-acres Manor of Crowmarsh Battle (inclosed in the 17thC) South of the London Road. Probably the Fields were created during the early-to-mid-11thC: before Ewelme & Berrick Salomes separation from Benson, but after Berrick Priors Detachment c.1017–35, since Berrick Prior had no stake in them. By 1300 they had apparently reached their full extent. Warborough's Fields were separate by the 12thC, although the concentration there of Benson's Medieval Demesne points to their earlier intermingling as part of the large Benson Estate.
Some Medieval Land Grants mentioned Berricks West Field & Benson's West, East & South Fields, but by the 15thC the Fields were heavily subdivided, and in the 18thC comprised 16 Fields of greatly varying size (c.20 a. to 243 a.). Most contained Land belonging to all 3 Parishes, although Berricks Strips showed some limited concentration in the Northern Fields, and Ewelme's in the North-east & South-east, perhaps reflecting a planned Allocation at an early date. In addition Ewelme had its own independently organised 'Home Fields'. In the 18thC a 3rd of the Land was theoretically divided between wheat & barley, a 3rd planted with beans, and a 3rd left Fallow, although actual rotations were more varied. Earlier arrangements are unrecorded, but as Farmers held Land in widely differing combinations of Fields rotation must always have been complex. A few Field & Furlong names reflected the Arable's varying quality, as with Stoney & Clay fields (between Ewelme and the London Road), or the smaller Foul Slough & Moorlands Fields (both bordering areas of Common). In 1839 the Soils were described as a Tight & Fertile Loam resting on Gravel or Clay'.
Preston Crowmarsh's Medieval Fields may have been separately organised, since they were apparently Inclosed Independently of the larger Field System. Middle field, Stoneland & South Field were mentioned in 1391/2, and a Map of 1638 suggests that the Fields had formerly covered much of the Estate's Central area.
Common Pastures & Meadows – 1st Series OS Map of Oxfordshire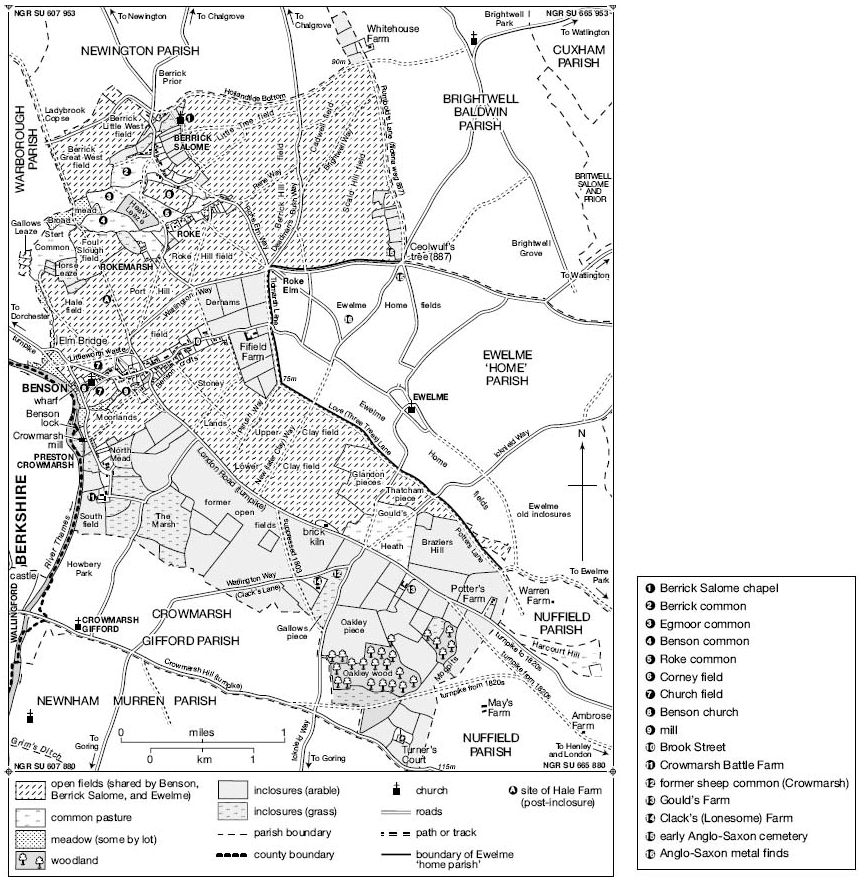 Table: The distribution of shared Open-Field Land Titheable to Benson, Berrick Salome & Ewelme, 1788 (Fields listed topographically from North)
Field
acreage
% titheable to Benson
% titheable to Berrick Salome
% titheable to Ewelme
Berrick Great West
95 a.
34
63
3
Berrick Little West
26 a.
34
59
7
Corney
20 a.
0
100
0
Little Tree
108 a.
33
59
8
Cadwell
145 a.
33
19
48
Foul Slough
73 a.
97
3
0
Port Hill
163 a.
84
14
2
Roke Hill
122 a.
56
27
17
Berrick Hill
199 a.
47
32
21
Scald Hill
243 a.
27
14
59
Hale
149 a.
100
0
0
Church
53 a.
100
0
0
Moorlands
64 a.
100
0
0
Stoneylands
182 a.
89
3
8
Upper Clay
151 a.
49
7
44
Lower Clay
156 a.
64
3
33
Commons totalling 220-acres were also shared, though custom limited grazing in some to particular Settlements. The largest (100 a. combined) lay between Roke & Berrick Salome, divided into Benson, Egmoor, Berrick, and Rowe or Rokemarsh Commons. Inhabitants of Benson, Fifield, Roke, Berrick Salome, and Ewelme claimed Rights there, while nearby Sterte Common (32 a.) was open to Benson & Fifield Inhabitants and to some from Roke & Ewelme. Goulds Heath & Harcourt Hill in the South-Eeast (87 a. in all) were reserved for Benson, Fifield & some Ewelme Tenants. Most Farms carried specified Rights in particular Commons, and in the 1790s Tenants of Fifield Farm and Magdalen College's Benson Farm were each obliged to provide a Bull & a Boar to service the Herd. Additional grasing was available in Lammas Grounds particularly at Berrick, and all 3 Parishes shared grazing in the Arable or 'Intercommoning' Fields after Harvest. Preston Crowmarsh's Medieval Tenants had Pasture rights in Heycroft and in the Marsh near Crowmarsh Battle Farm, and could Fold sheep in the Manors sheep Pasture. Shared meadows totalling c.65 a. lay mostly along the Thames & Western Boundary Stream. Additional Parcels lay at Woodford Mead in Drayton St Leonard and many Holdings carried Rights in Warborough or Shillingford Meadows. Benson's Woodford and possibly Winch Meads included Lot Meadow (re-allocated Annually) into the early 19thC, but small private Plots existed from the Middle Ages, fetching fairly low rents of up to 5½d an acre in the 1270s. Grassland on the higher Ground around Turners apparently also produced Hay in the 1350s.
Woodland
In 1086 Woodland attached to Benson Manor yielded (with its Meadows, Pastures & Fisheries) the very large sum of £18-15s-5d. a year. Much of it probably lay outside the modern Parish on the Chiltern Uplands: Woods there worth £4 a yr remained Attached to Benson in the 1430s, although most were apparently separated through piecemeal Grants before the later 13thC. Some small Parcels of Woodland occupied by Benson Freeholders in the 1270s may have similarly lain outside the Parish, while Medieval Pannage Rights may have also been largely exercised on the Uplands. By the 17thC Benson's remaining Woodland was concentrated on higher ground in the Parish's South-east Corner. The Turner's Court Estate was 'well-Wooded' with Oak & Elm in 1628, although 240 Oaks sold chiefly to local Buyers may have come partly from attached Woods in Newnham Murren. Oakley & Mogpits Woods covered c.96 a., and may have once included the adjoining Oakley Coses (c. 60 a.), which were largely Arable by the 1260s. By the 17thC the Woods included Oak, Ash, Elm, & Coppice, and were divided between Fifield (and later Crowmarsh Battle) Manor & May's Farm in Nuffield, whose Owners sometimes Leased them. Their area remained largely unaltered until the late 20thC, when Oakley Wood was substantially reduced partly for Quarrying. Woodlands Furlong in Berrick Hill Field may recall additional Medieval Woodland further North, although the area around Roke (meaning 'at the Oak') was presumably largely open by the 13thC.
Poorer Inhabitants obtained Fuel from Hedgerows, Commons & Furze Grounds such as Gould's Heath, where the Manor Court banned use of Wheeled Carts in the 18thC. In an attempt to maintain supplies, Magdalen & Exeter College Tenants were required to plant Oak, Ash, or Elm Trees around their curtilages as part of their Rent.
Davis's Map of 1797
Early Inclosure
By the 18thC Inclosures totalling some 1,500 a. were concentrated in Preston Crowmarsh, around Fifield Farm, and in the Chiltern Foothills towards Nuffield, where the combination of Woodland and outlying Medieval Farms created an early-inclosed Landscape reminiscent of the Chiltern Uplands. The Island of old Inclosures at Fifield (139 a. bounded by Braze & Tidmarsh Lanes) existed by the 1630s, having possibly formed part of the Manors Medieval Demesne. So too did Closes around Crowmarsh Battle Farm, where Sir Ralph Verney carried out further Inclosure in the 1650s–60s before selling the Estate for profit. Residual Common Rights there were extinguished by agreement & Crowmarsh's Open-Fields (already held mostly in large parcels) were subsequently thrown into larger Closes, creating by the 1780s 2 wholly Inclosed large Farms. Inclosures elsewhere included the Lammas Grounds near Berrick, small Closes around the outlying Whitehouse Farm & Rumbold's Closes along the Berrick-Brightwell Baldwin Boundary. Consolidated Blocks in the Open-fields included Great & Little Glandon pieces (c.48 a.) near Goulds Heath, and were probably partly of late Medieval Origin.
Medieval Tenant & Demesne Farming
Little is known of how Benson's large Anglo-Saxon Estate was run, though Charters & Place names reflect its varied resources, and a gift in 887 of 6 men and their Families 'who formerly belonged to the Royal Vill' suggests Slaves or Tied Estate Workers Settled on the Demesne. In 1086, when Benson Manor still contained Land in several Parishes, the Demesne had 5 slaves or servi running 8 Ploughteams, while 61 Tenants (32 villani & 29 bordars) held another 24 Ploughteams in total. 20-yrs earlier the Manor had reportedly supported 50 Ploughteams, of which some had perhaps become separated through subsequent Land Grants. The Manors other Assets reflected its continuing importance as the most valuable Royal Estate in Oxfordshire, yielding £85 a yr including Income from Meadows, Pastures, Fisheries & Woods (£18-15s), Mills (40s), Church-scot (11s), & Cornrent (£30). By contrast the smaller Crowmarsh Battle Manor contained only 6 Ploughlands & 4 Plough-Teams, though it had risen in value from £6 to £8, with half-run as Demesne and half shared by 4 villani & 7 bordars. Fifield Manor may have been entirely Demesne, and like the other Manors probably pursued Grain-based mixed Farming.
By the 1270s Tenant Landholding in Benson Parish was dominated by Free Tenure, with over 75-Yardlands and 215-ares held by c.78 Free Tenants & Sokemen or by their equally numerous sub-Tenants. By contrast only 19½ Yardlands and 47 a. were held by 55 Customary Villeins or Cottagers, all but 10 of them on Crowmarsh Battle & Fifield Manors. The preponderance of Sokemen reflected Benson Manors status as Ancient Royal Demesne, although a higher proportion of Customary Tenants was recorded on the Manors Holdings in neighbouring Warborough, where most of Benson's Demesne Farm Lay the Freeholdings' sizes varied from the odd acre to substantial Estates, the Sokeman Walter Morgan Holding nearly 6 Yardlands in 4 Parcels, and partly Subletting them. Mostly he paid money Rent & Hidage, although his largest holding also owed light Labour Services. The Parish's Villein Tenants mostly held ½ Yardlands (c.12½ a.) for rent & services, rents at Fifield being slightly higher & services lighter than on Benson or Crowmarsh Battle Manors.
Early 14thC Tax Assessments confirm that Benson was among the Hundred's larger and more prosperous places, though not exceptionally so. The Village's total assessed wealth in 1327 was nearly £79, with individual Inhabitants Taxed on Goods worth between 10s & £15. Preston Crowmarsh (Taxed on £22), with its small Population of Cottagers & Villein half-Yardlanders, had a much flatter social profile, save for Battle Abbey's Demesne Farm where goods worth £13 were Taxed in 1306. Shared Tenancies suggest pressure on Land, and some Cottagers had under 3 acres.
Benson Manor's Demesne (254 a. in 1279) was restocked in 1178/9, when the Manor returned to Royal Control after a Long Lease. Over the next 30-yrs it was variously kept in hand or let with the Manor for £57-8s, increased to £100 from the early 13thC. Around 1244 Richard of Cornwall Leased it with the Manors Rents to a Group of 25 Leading Benson & Warborough Freeholders for £80 a yr, retaining only his Woods and the profits from Manor Courts and the Chiltern Hundreds; the rent was reduced to £40 (later £39-2s-11d.) from 1278 following the separation of some Lands in Warborough, but otherwise the arrangement continued until 1438, with successive Groups of Tenants answering for the Rent in Common. Battle Abbeys Preston Crowmarsh Demesne (240 a. in 1279) was directly Farmed until 1362, partly through Tenant Services and partly through retained Estate Workers including a Carter, Shepherd, Dairyman, Swineherd, & 2 Ploughmen. Fifield Manor presumably had a Demesne in 1279 when, excluding Cottage Holdings, only 5½ of its 20 Yardlands were Tenanted.
Farming on the Demesnes was predominantly Cereal-based, with some significant Dairying and sheep rearing. Stock on the Benson Demesne in 1178/9 included 40 Oxen (suggesting 5 Ploughteams), 198 sheep & 8 cattle, while in the earlier 14thC Battle Abbeys Demesne supported up to 124 sheep, 53 pigs, a few chickens & geese, and (in 1322/3) a stock of Bees. Its profits from Wool & Dairying were never large, however, and up to 78% of its Crowmarsh Income (rents included) derived from Corn sales, principally wheat & barley. Most was Carted overland to Henley, with additional Sales at Wallingford, Reading, and Newbury, while some produce (including dredge, oats & peas) was consumed on the Manor. Tenant Farming was presumably similar, with villeins at Preston Crowmarsh enjoying Pannage Rights for their Pigs and folding for up to 16 sheep per Yardland.
The Black Death led to long-term Population decline, perhaps especially at Fifield and Preston Crowmarsh where some Holdings remained Vacant in the 1350s. Battle Abbeys Profits from corn sales more than halved, prompting it to lease its Manor 1st for £22, and in the 1380s for £10, under a 3rd of its 1320s value. A brief return to direct Management in 1391/2 was not repeated. The Crowns Profits from Benson Manor were theoretically protected by its £39 rent, but in 1438 the Lessees claimed that the Manor yielded only £24 a yr and were Distrained for non-Payment. Land values had fallen, the Demesne Mill was disused, and some Free Tenants had allegedly departed rather than pay the ancient rents. Income remained below the ancient rent in the 1480s & 1530s, when a new Rental was drawn up.
As elsewhere such difficulties allowed Tenants to accumulate larger Holdings on better terms. At Roke a Magdalen College Tenant in 1503 occupied 4 formerly separate Holdings comprising nearly 3-Yardlands, while Lessees of the former Preston Crowmarsh Demesne (who from the 1490s included the prominent Freemans) may have undertaken some piecemeal Inclosure for grazing. The Parish's South-eastern part already included substantial Inclosed Farms at Turners Court, Potters Farm & Gould's, which were presumably well placed to benefit from sheep or cattle-rearing alongside Crop cultivation.
Farms & Farming 1500–1800
In the 1530s rents from Benson Manor totalled £36-10s-½d., including c.£10 Quitrents from former Dependencies across the Chilterns, and c.£3 from neighbouring Parishes. In Benson & Roke around 20 Free Tenants (not all of them Resident) held a total of 336 a. and 1½ Yardlands for Quitrents totalling slightly under £10. The former Demesne Lands (mostly in Warborough but including some Open-field Land in Benson) yielded £11 from 11 Tenants, and Benson's few Customary Holdings (1½ Yardlands & c.42 a.) 40s-6d. from 7 Tenants. All the Rents were far below the Holdings' true values, supplemented by sporadic entry Fines and by Heriots or Reliefs. The pattern remained largely unaltered in 1606, when the former Demesne was occupied as Copyholds Granted for 3 lives. Outside Benson Manor, a mixture of Leaseholders and Copyholders occupied varied Holdings under the other Chief Landowners. Taxation Lists suggest that the Parish was amongst the Hundred's more prosperous places, with 33 Taxpayers from Benson & Crowmarsh Battle paying a total of £7-4s-10d. in 1524.
Inhabitants' individual Holdings varied considerably, the largest being the former Demesne Farms of Crowmarsh Battle (c.260 a.) and Fifield (nominally 790 a.), together with the long-established Turners Court Farm (c. 300a.). All were Leased to prominent Yeomen such as the Freemans, Stampes & Smiths, the last of whom were Benson's wealthiest Taxpayers from the 1570s to 1620s. Prominent Freeholders on Benson Manor included the Arnolds, Penneys & Quelches, each with over 40 a. of mostly Open-field Land and associated Commons, while Thomas Freeman held at least 120 acres. 17thC Probate Inventories confirm the presence of a few substantial Farmers amongst a broader band of middling ones, those with goods worth over £100 (much of it in Farm Stock) including members of the Freeman, Arnold, Merryweather, Stampe, Waterer, Prickett & Arnett Families. Some of the Barretts (Tenants of Exeter College's Farm & Roke Farm) left up to £490, and William Harding (d. 1706) of Turners Court £558, while in 1685 Edmund Stampe of Fifield Farm left an exceptional £932. Most Farming was, however, much smaller-scale. Surviving Inventories show a Median value of c.£37, while a Roke Smallholder in 1638 left Goods worth under £7.
Traditional sheep-corn Farming was combined with small-scale Dairying and Cheese-making typical of the area. The chief cash-Crops were wheat & barley (some of it malted), with some rye, maslin, oats & peas, while many larger Farmers owned over 100 sheep & some cattle, pigs & draught horses. Edmund Stampe (with 210 a. under Crop) had a flock of 220, with 15 cows & (exceptionally) 128 pigs, and like several poorer Inhabitants kept Bees and Poultry. The Arnolds, who Held a Fishery, owned Nets & a Boat. Lesser Crops included apples (sometimes for Cider) & Hemp, and several poorer inhabitants span Linen or Wool. Markets listed in 1628 included Wallingford, Abingdon, Reading & Henley, where Thomas Harding was owed money for corn in 1727.
Despite a reduction in sheep numbers the 18thC saw little change in Benson's Farming, which in the 1780s was dominated by 7 or 8 Large Farmers including the Bonners of Fifield Farm, the Harfords of Turner's Court, and the Lovegroves of Preston Crowmarsh (the last 2-Farms wholly Inclosed). Fallows were planted with clover & turnips and grazed by cattle & sheep, with Penalties for over-Pasturing and over-Cultivation, while new Fertilisers included Rags (brought from London) & Potash. Nevertheless in the 1830s the Open-Fields were 'much Racked', partly through poor Management and partly through over-grazing by Farmers from neighbouring Parishes. Most Land was by then effectively Freehold or let at Commercial rates, although Magdalen College continued to Lease some of its Farms for large entry Fines and low Rents (reckoned partly in Corn) until the 1850s. Remaining 'Base' (i.e. Copyhold) Tenures on Benson Manor were confirmed by the Manor Court in 1778.
Farms & Farming Since 1800
Around 1796 Crowmarsh Battle was taken by the Incomer Thomas Newton (c.1772–1842), whose Family dominated Benson Farming throughout the 19thC. By 1841 his sons William, Robert Aldworth, & Thomas Farmed over 1,630 acres. between them from Crowmarsh Battle, Fifield Manor & Gould's Grove, while 6 other Resident Farmers occupied over 100 a. each, amongst them Thomas Weller of Roke Farm (c.220 a.), Walter Shrubb of College Farm (c.276 a.), and Thomas Greenwood of Turner's Court (over 400 a.). Over 72% of the Parish was Arable, split between Open-fields & Incisures, while a 5th (including the Commons) was Grass, 3% Woodland & 2% Orchards, Gardens, or Yards. Sheep-corn Husbandry continued, with Newton keeping over 1,200 sheep in several small flocks.
Newton's intensive Farming won praise from the Agriculturalist Arthur Young, but his persistent attempts to force an Inclosure in 1807 and again from 1827 provoked strong opposition from Proprietors, Farmers & Clergy, who complained of the risks & expenditure, limited Benefits for smaller Farmers, and detrimental effects on Smallholders and the Poor. More populist unrest erupted in November 1830, when a Crowd of several 100 confronted Newton and his son over Inclosure & (possibly) Wages and smashed local Threshing Machines, some of which belonged to other Farmers. Opposition was compounded by low Corn prices, which saw even Newton seeking Allowances for his Lease of the Tithes and complaining of Tenants' Arrears. By he 1840s attitudes to Inclosure were changing, and an Act was agreed in 1853, with Inclosure completed 10-yrs later. Land was allocated to 79 Proprietors from the 3 Parishes, the Newtons receiving 750 a. in all. Some Cottagers received small Parcels in lieu of Furze-gathering or Grazing Rights, but only 10 a. was set aside as Allotments for the Labouring Poor.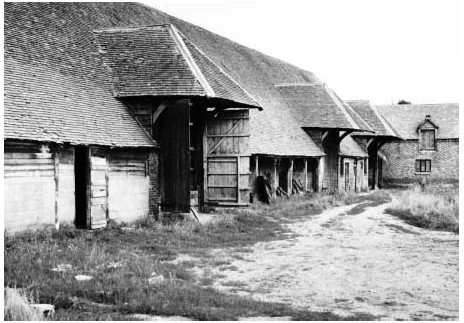 The 200-acre Hale Farm (North-west of Benson Village) was established soon after Inclosure, but otherwise the Farming Structure remained little altered. In 1881 the Newtons still worked 1,500 a. and employed 86 men & boys, their closest rivals being John Frampton of Newberys Farm on Brook Street (634 a.), William Deane of Turners Court (412 a.), and Sophia Weller of Roke Farm (300 a.). The Newtons' Hegemony was ended by c.1900, when Crowmarsh was mostly farmed by F P Chamberlain, Gould's by the Roadnights & Fifield by A D Wells and others. Five farms then exceeded 300 a. and 4 were 50–300 a., while 20 smaller Holdings included 12 under 5 acres. By then Agricultural Depression was again causing difficulties. In 1888 the Tithe Payers unsuccessfully demanded Abatements, and rents at Crowmarsh Battle were reduced by 30% before 1893.
Mixed Farming continued into the 20thC, though as Corn prices fell the proportion of Arable dropped steadily from 81% in 1866 to under 40% by 1930. The Chief Crops remained wheat & barley, followed by oats, fodder crops & (until the 1880s) beans. As elsewhere sheep numbers fell markedly, from over 3,500 in 1889 to only 99 by 1930; in part the decline reflected a shift to Artificial Manure (some of it locally produced), although in 1941/2 sheep were re-introduced on one Farm to help restore its exhausted Soils. Numbers of Beef & Dairy Cattle increased from 87 to 286 over the same Period, alongside Pig-Farming and (by 1930) large-scale Poultry rearing. By the early 1940s the Parish was 64% Arable and 35% Grass, supporting c.560 cattle, 196 sheep (all on one Holding), 100 pigs, and over 5,000 poultry (850 at Oakley Wood Poultry Farm). Some 417 a. were under wheat and 578 a. under barley, with 505 a. of oats. The largest Holdings (excluding the 847-a. Turner's Court Farm Training School) were W A Bennett's combined Cedars & Potter's Farms (389 a.) & F P Chamberlain's Crowmarsh Battle Farm (529 a.), which was mostly Arable but had 17 Cattle & 1,042 Poultry. Three other Farms (including Hale & Roke) were over 100 a., while 13 Holdings (including some small Dairy operations) remained under 20 acres. Most large Farmers had Tractors, and there were 67 Labourers.
By 1960 Arable (producing chiefly barley) was back to 73% and there were 180 cattle & 440 pigs. Three decades later wheat was outstripping barley, and the Pigs had been replaced by 280 Sheep. There were then just 2 large Farms, with another 7 (including several Smallholdings) under 120 acres. The largest remained Philip Chamberlain's Crowmarsh Battle Farm, which by 2007 covered 3,700 a. (1,500 ha.) and grew chiefly wheat, alongside oilseed rape and some beans, oats, barley & protein peas. A 60-ha. outdoor Pig-unit was separately managed. The Farm was a Showcase for LEAF (Linking Environment & Farming), and advanced Technology allowed it to be run by just 3 people.
The Wallingford Farm Training School (Turners Court)
The residential Wallingford Farm Training Colony at Turner's Court Farm was set up in 1912 by the Christian Service Union, a Philanthropic Body with Nonconformist connections which already ran 3 similar Schemes in other counties. The National Union for Christian Social Service, later the Christian Service Union – for Farm & Vocational Training for backward, maladjusted & difficult boys. The intention (exploiting the Farm's 500 a.) was to provide Training in Agriculture & Forestry to 'Unemployable' Men & Youths sent mostly by Boards of Guardians, and to find them work in Britain or the Colonies. The 1st 80 Inmates (from the CSU's Colony at Lingfield in Surrey) arrived during 1912, lodged in temporary Accommodation, and by the following year the 1st of 2 No. 3-Storey Accommodation Blocks (designed by Architect T Phillips Figgis) were complete, with an on-site Electricity Plant & Water Supply. Management was by a Resident Superintendent or Warden assisted by unpaid Resident 'Brothers' drawn from varying Backgrounds, overseen by a local CSU Committee. Numbers of Trainees soon exceeded 100, reaching over 200 in the 1920s (following a fall during WW1) & 300 in the mid-1930s, when there were 31 Brothers and additional Domestic Staff. By then most men were found Jobs in England, although until the 1920s a substantial proportion were still sent Overseas. Conditions were basic with a strong Religious emphasis on Sundays, and in the 1920s there were occasional complaints about Food, Sanitation, Medical Care, Punishments & General Management.
During the 1930s the School (despite recurrent Financial problems) expanded its Facilities & Farming, Building a Sanatorium, Swimming Pool, Cinema, and new Assembly Hall, and acquiring 380 a. from Mays & Warren Hill Farms. Changing Government Legislation gradually altered its Role, however. From 1930 referrals came from County Councils, which increasingly nominated 'homeless, deprived & maladjusted boys' in their care. Adult Colonists were gradually phased out, so that by 1941 most Boys arrived aged 14–18 and received 1 to 4-yrs' Training. Farm Work (including Forestry & Market Gardening) still predominated, but non-Agricultural Trades & Crafts were introduced after WW1 & gradually expanded. Staffing became more Professionalised, with Amateur Brothers replaced by better-trained Welfare Officers, and semi-formal Government Inspections also increased. Even so numbers fell from 270 after WW2 to c.130 in the mid 1950s, when Financial difficulties, changing approaches, and lack of Investment threatened the School's Future.
The Wardenship of R P Menday (1955–67) saw some resurgence, and in 1963 the School (with other remaining CSU institutions) became self-managing, still catering for 'Troubled' Boys in Local Authority Care including many from London. Around 700 a. of Agricultural Land was sold in 1959 to help Fund Renovations & a Broadened Curriculum, and in 1968 there were 168 Trainees. Numbers fell sharply during the 1970s–80s, however, reflecting rising Costs and a National shift towards less Institutionalised 'Community Homes'. By the mid-1980s Farm Work was overshadowed by other Training including Vehicle Maintenance & Catering, and in 1991 (when there were barely 25 Trainees) the School was Closed. The Site was sold for Housing Development in 1993 and the main School Buildings Demolished, leaving the Assembly Hall with its Clock Tower (converted into 2 Private Houses), Hunt House, and some Staff Cottages. The Turners Court Youth Trust, a Grant-giving Charity supporting children & young adults with Emotional & Behavioural difficulties, was founded shortly after the School's Closure, dispensing nearly £20,000 in 2009–10.
.