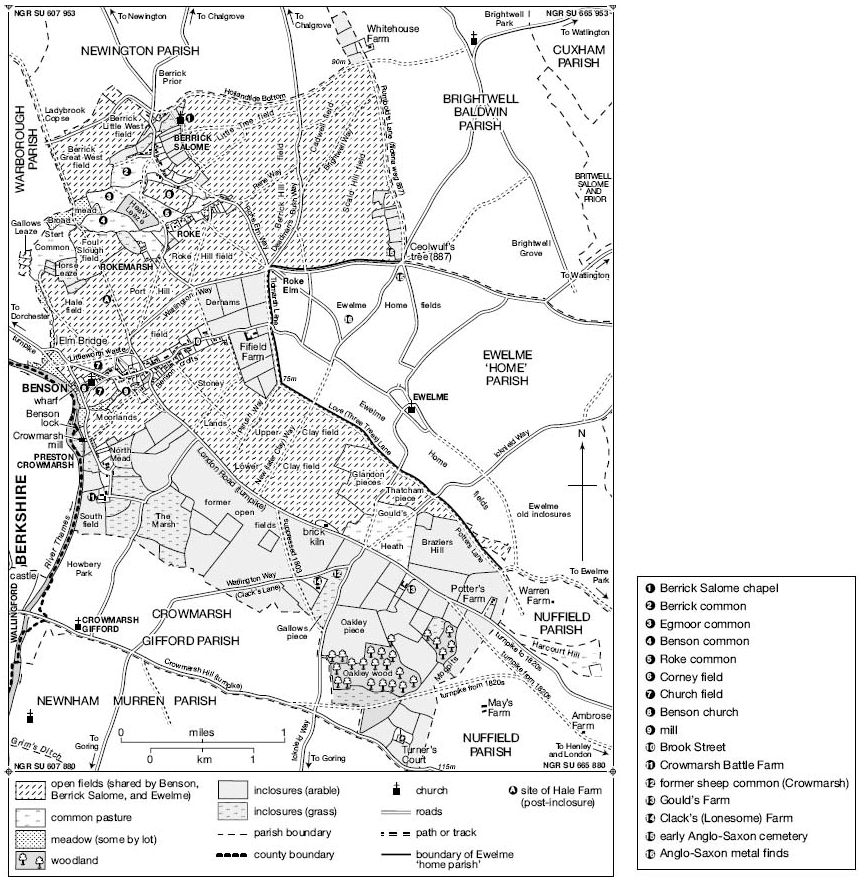 Until Inclosure in 1863 Berrick shared an Open-field System with Benson & Ewelme, including access to Grazing & Meadow  In 1839 surrounding Land was 'of very strong quality' with 'a good depth of Soil over a very Stiff Clay', yielding good Gain Crops 'to those who go to the expense & trouble of working them well'.  Like most neighbouring places the Village generally pursued Arable-based Mixed Farming, supporting sheep, cattle & dairying as well as wheat & barley production. Farming benefited from accessible Markets, and remained dominant until the 20thC: traditional Trades & Crafts were recorded only sporadically, although a Malthouse operated by the 1760s, and in the 19thC there were generally a couple of small Shops.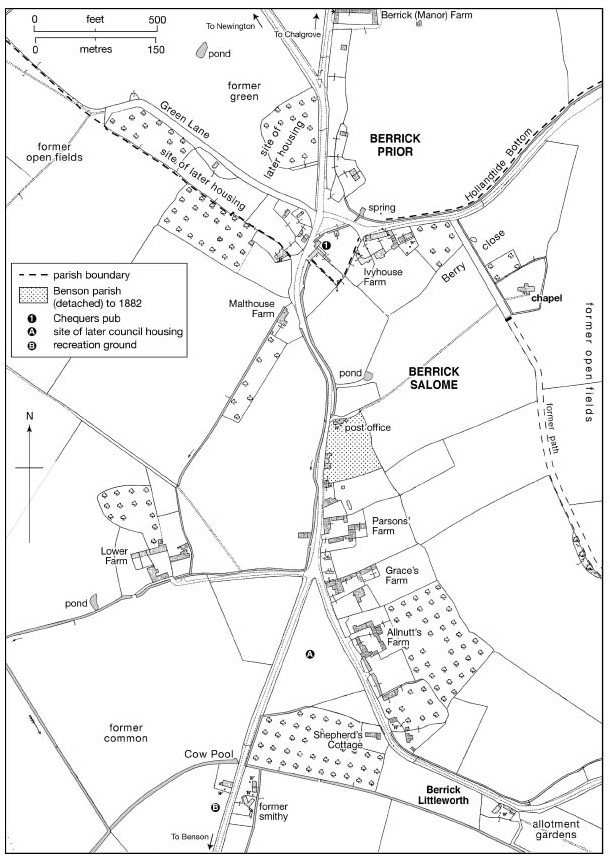 Medieval Tenant & Demesne Farming
Berrick's name suggests a specialised Outlying Farm within Benson's large Late Anglo-Saxon Estate, but by 1086 it formed an Independent 4-Hide Manor with a conventional Agricultural Community. Ten Villani & 6 Bordars had 3 Plough-Teams between them, and another 2 Teams (worked partly by 4 Slaves or Servi) were employed on the Lord's Demesne. Since the Manor reportedly had Land for only 4-Teams it may have been over-Cultivated, although its annual value had risen from £3 to £4 since 1066. Additional resources (probably in Demesne) included 4 a. of Meadow, 2 a. of Pasture & Woodland measuring 2 Furlongs x 1 Furlong.  The Latter was perhaps recalled in the Later Field-name Woodlands (East of Berrick Village),  or may have lain Outside the Parish on the Chiltern Uplands.
By 1279, when Berrick formed part of Chalgrove Manor, the Demesne had been reduced to 6-Yardlands (c.120–150 a.) and was Let to Tenants. Just over half was held in Common by 9 Resident Villeins for 110s-3d. a year, Local Freeholders occupying the rest in Parcels of ½ or ¾-Yardlands. The Villeins' share included Demesne Farm-stock comprising 6 Oxen, 2 Draught animals, 200 Sheep, a Hayrick, and 27½ a. of Sown Land, together with Tenants' Brewing Tolls & Pannage Payments. Clearly the Arrangement was of Long Standing, since the King ordered an Incoming Lord to respect it in 1228. In addition, a total of 15-Villeins (including the Demesne Lessees) occupied more conventional Customary Holdings ranging from ¼-Yardlands (effectively Cottage Holdings) to whole Yardlands: most occupied ½-Yardlands (c.10–12½ a.) for 3s rent, supplemented by light Harvest, Hoeing & Wood-carrying Services on the Lords' Chalgrove Demesnes. A few Held additional Land & 5 Freeholders occupied 1–2 Yardlands each for varying Rents.  In all the 1279 description accounted for 18-Yardlands, but was apparently Incomplete. A Survey of one half of Chalgrove Manor in the 1460s listed 20½ Berrick Yardlands held by 18 Customary Tenants, excluding some sizeable Freeholds.
By 1336 some Villein rents on the John de Plessis Manor were substantially heavier than those reported earlier, although most Berrick Villeins still occupied only ½-Yardlands, and a few Cottagers paid 1s–2s each. Villein Labour Services (valued at 14s-10¾d a year) were apparently still exacted, and the Manors combined Income from Berrick totalled c.£6-15s, chiefly in Customary rents. Two Tenants each held c.9–12 a. of Demesne for additional rent, and small Demesne Meadows at Drayton & Shillingford were similarly Leased; otherwise the former Berrick Demesne was no longer discernible. A separate Freehold known sometimes as 'Berrick Manor', containing at least 4-Yardlands, was let to Richard Wiggin for 7-yrs in 1422, at 46s-8d. a year.
Late Medieval Depopulation at Berrick seems to have been relatively limited, and unusually rental income during the late 14th & 15thC held fairly steady & possibly even increased. Nevertheless the Village saw the accumulation of Holdings typical of the Period. Three Customary Tenants in 1462/3 held at least 2 Yardlands (40–50 a.), and one (Robert Digweed) held 4, while the double-Yardlander Thomas Vynt was sufficiently prosperous in 1476 to Co-rent part of the Chalgrove Tithes for 53s-4d a Year. Freeholds were possibly also combined: Holdings of up to 21 a. changed hands in the early 16thC, while the reputed 'Berrick Manor' (still Leased to Tenants) remained much larger. Labour Services were presumably long commuted by the 1460s, when the Chalgrove Demesnes were Leased. Nonetheless 5 Berrick Tenants still owed nominal Harvest Works valued at 6s in all in 1462/3.
Throughout, Tenants' Open-field Cereal Production was presumably combined with Pastoral Farming, including Sheep-rearing as in the Berrick Demesne Lease. John Cotterell's Sheepfold needed repair in 1497, and in 1486 John Benet of Roke (who Held Land from Benson's Fifield Manor) was Fined for over-burdening Berrick's Pastures with 400 Sheep.  Tenants' Cows & Pigs were mentioned occasionally and some rents were paid partly in Poultry.